I think these are possibly recycled content from Blake Mason titles. Nothing wrong with that given it was good stuff in the first place.
Au Natural Video Box Set 1 (4 DVD set) - Studio: Au Natural Video

These guys are doing what comes naturally - snogging the faces off each other, devouring dick, and spreading ass cheeks to savour the prize that lies within. They just can't get enough of each other's taut bodies. Whether the guys are slipping each other the tongue in the kitchen, sucking on tight balls in the bedroom or sliding a length of love into a tight ass in the lounge, no room is out of bounds for these sexual soldiers.
Au Natural Video Box Set 2 (4 DVD set) - Studio: Au Natural Video

From blondes to brunettes and every shade in between, this All Natural Video Box 2 brings you sex like no other! Handsome to the core and horny as fuck, these lads can't wait to show off their smooth toned bodies and let their lovers put their wet tongues to work. French kisses are obligatory, but the passion they evoke gets the blood pumping and the pheromones buzzing!
Au Natural Video Box Set 3 (4 DVD set) - Studio: Au Natural Video

There's nothing sexier that a load of hot amateur guys getting down and extremely dirty with each other. The horny studs in All Natural Video Box 3 can't wait to get naked and show off for the camera. Who needs a professional porn star when you can get the real thing - real ass spreading, real hole fucking and real man-on-man sex at its best. From passionate French kissing to sucking, rimming and blowing thick juicy loads, real dudes get it on and get off in over seven hours of some of the hottest amateur gay sex around!
Au Natural Video Box Set 4 (4 DVD set) - Studio: Au Natural Video

Check out the sexy studs in All Natural Video Box 4 as they open wide for some fun and frolicking in over seven hours of guy/guy action. There's no stopping this handsome lot as they smother each other in sloppy kisses whilst hands wander over a firm back or a tight tush - and it's not only their smiles that get bigger as cocks start to rise in unison.
Sexed Up - Gay DVD - Studio: Au Natural Video

These lads are Sexed Up and ready to party! The sexual chemistry hangs heavy, the guys are hot and the feelings are mutual as they come together to kiss amorously whilst hands wander over toned torsos and fingers skip lightly over erect nipples. Passion exudes at every turn as these lovers traverse every inch of each other, licking flesh and devouring cock before parting trim butt cheeks and plowing the tight ass that beckons. Unmissable sexcapades that sees these smooth, slim guys taking some and giving plenty!
Arousal - Gay DVD - Studio: Au Natural Video

It doesn't need much of a spark for these lovers to fall into each other's arms – and on to each other's dicks! Nothing can dampen the ardour of these handsome young men as soft kisses on the lips get the butterflies jumping and light strokes on the inside of a thigh sees a cock stand to attention and twitch in anticipation of some delicate, but firm, handling!
Bedtime Stories - Gay DVD - Studio: Au Natural Video

These are the kind of Bedtime Stories that are guaranteed to keep you up at night. No villains here, just gorgeous young men with one thing on their mind – a hard cock and a juicy ass! Plenty of sleepless nights await as these horny studs bring new meaning to tossing and turning with passionate French kissing, deep throated blowjobs and intense and exhausting rounds of satisfying fucking! When it comes to bedtime, who says it's time for a snooze?
Dirty Dreams - Gay DVD - Studio: Au Natural Video

If you're gonna dream – then dream dirty! That threeway chain suck that ultimately leads to an all out chain fuck that sees you being the meat in a succulent manwich! Your hot lover sucking and pulling on your balls before smoking your dick and pushing his fat dick, inch by incredible inch, into your aching asshole or dreaming about trying to turn that gorgeous straight dude – and succeeding as you devour his dick...
Forbidden Temptations - Gay DVD - Studio: Au Natural Video

Is there such a thing as Forbidden Temptations? Not in this rule book, in fact, if it's tempting then resistance if futile, especially if it's a handsome boy with a seductive smile, a twinkle in his eye and a hard, throbbing cock! These guys admire and appreciate every inch of each other's toned bodies and take their time as they lick and kiss every inch of flesh before gorging on dick and ass.
I Feel You Deep Inside - Gay DVD - Studio: Au Natural Video

I Feel You Deep Inside and I need more! You don't need to be a mind reader to know that's what these handsome boys are thinking! The moans that escape their lips and the look of sheer pleasure on their faces says it all! When it comes to tease and titillation, these boys are blinkered and they know how to dole it out and when it comes to being on the receiving end,
Passionate Sex - Gay DVD - Studio: Au Natural Video

Passionate Sex is top of the agenda when these hung, cum filled guys get together. They're experts at sucking cock and splendid when it comes to fucking ass, but there's no rush when it comes to pleasure. They take things slow with fully body kisses, tender touches and tongue exploration.
Stiff Cock Tales - Gay DVD - Studio: Au Natural Video

You can always lose yourself in a good story; a loving romance or a nail-biting thriller, but for these guys, there's nothing like some Stiff Cock Tales to get their attention! Turning the heat up, these hot-bloodied and impulsive guys already know the ending to these stories – it's the beginning and the bit in the middle that piques more than just their interest.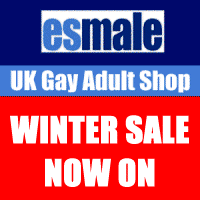 Esmale (UK Gay Adult Shop) sells a large range of gay adult sex toys including a range of fetish and restraint products, Cock and Ball play items, Whips, Paddles and Slappers, Blindfolds, Masks and Hood and are the UK stockist of Mr B leather and fetish products. They also sell a large range of men's designer underwear, condoms and lube, fleshjacks, jock straps and anal toys. Treat yourself!
Save an extra 10% on top of their already discounted prices with our exclusive code 'GAY10'. Click here to shop
See also: www.gayadultshops.co.uk