No studio does older men gay porn dvds better than Pantheon Productions. Pantheon celebrate mature gay men, and their gay sex dvds are bear soup, swimming with older and hairy daddies.
SoCal Beef - Gay DVD - Studio: Pantheon Productions - new

In So Cal Beef, the beef is burnished by the sun making muscles glisten as they grow. In Pantheon's all-daddy, pure beef video they have eight hot men working and working out before they get naked and sweaty.

Cast: Brad Kalvo, Peter Rough, Josh Thomas, Victor West, Scotty Rage, Derek Parker
Daddies, Bears, Boys - Gay DVD - Studio: Pantheon Productions - new

Daddies, Bears & Boys - the name says it all. You've got hot daddies fucking boys, boys fucking daddies, bears on bears and bears on daddies! It's hot fucking all the way around.

Cast: Zion Prescott, Jett Ryder, Max Giovanni, Russ Rodgers, Brock Hart, Alessio Romero, Ben Venido, Max Dunhill, Eddie Kordova, Jason Proud
All Play And No Work - Gay DVD - Studio: Pantheon Productions
The hot daddies in All Play And No Work are no dull boys. When these men play they work up a sweat to bring on the pleasure. They know how to end their day with a bang and when it comes to hot man-on-man action, these daddies can play all night. When hung daddy Luciano decides to take a nap after his shower, he has no idea that his Boy Cameron has a much different idea in mind.
Bay City Bears - Gay DVD - Studio: Pantheon Productions
There are a thousand stories in the City By The Bay but none of them as hot and sweaty as those found in Bay City Bears. Roommates Bronson Gates and Roman Wright don't often agree on much but one thing they do agree on is that Bronson's big bear ass is a sight to behold and the warmest, sweetest hole in all of Bay City.


Bears With Big Wood - Gay DVD - Studio: Pantheon Productions
Bears With Big Wood features seven hot and hairy bears using their big wood to give a good hard pounding to beefy bear bottoms. Hot Muscle Bear Adam Russo has just jumped on the sofa to stroke out a load from his rock hard cock when a knock at the door distracts him from his plan.


Beefcake Daddies - Gay DVD - Studio: Pantheon Productions
Beefcake Daddies is all about muscle men and how they love to fuck as director Chris Roma invites you to get hot and sweaty with these nine beefy men. When sexy muscle bottom Mike Dreyden spies hot daddies Nick Moretti and Paul Barbaro talking on the street he just can't help but let his imagination run away with him.

Beefy Bears - Gay DVD - Studio: Pantheon Productions
Like the name says, Beefy Bears has got nine slabs of hairy beef all sweaty and ready to suck and fuck each other in every imaginable way and in every imaginable place! Ripped and tatted daddy Ray needs a good hairy hole to fuck. He finds Sean and pounds and pounds Sean's hairy hole getting it open and juicy, just the way Sean likes it. Muscle Bears Bo and Mickey like to fuck in unusual places.
Big Dick Daddy Club - Gay DVD - Studio: Pantheon Productions
There's a secret little club in almost every town - and it's called the Big Dick Daddy Club. There are no signs for it and no ads in the papers. You may have heard rumours about it and if you get invited be sure to bring your ID - but you'll need more than your driver's license. It's the Big Dick Daddy Club and eight inches is required to enter through the front door - or the rear.
Brief Buddies - Gay DVD - Studio: Pantheon Productions
Brief Buddies is all about hot dads in their tighty whities showing off the big bulges inside. But they don't just show it off, they take it off - and let you get a good close look at their hot cocks and hungry holes. Each scene features hot dads and hot boys enjoying each other in and out of their underwear. There is nothing hotter than an older man in white briefs! Cast: Jake Shores, Jake Marshall, Rikk, Drew Vergas, Lee Silver, Mitch Jordan, Zak Powers
City Of Men- Gay DVD - Studio: Pantheon Productions
Welcome to the city - the City Of Men. You won't find any twinks here - only real masculine hung and very horny guys ready to grab hold and ride their way to that perfect moment when hot juice pours from their man-sticks. When you book your trip to the City Of Men you'll get five steaming scenes with nine hot studs fucking away.
Dad's Automotive - Gay DVD - Studio: Pantheon Productions
Dad's Automotive is a one stop auto shop where, with eight men employed, you get the best service around! Horse-hung daddy Rob Lawrence is the man in charge at Dad's Automotive. He's a great boss who knows how to keep his employees and customers very happy. Watch as eight hard-working, blue-collar men take a bit of time off work to get off with each other.
Backwood Bears - Studio: Pantheon Productions
Backwood Bears is the second hot Pantheon Bear feature that takes you on a journey deep into the redwoods of Northern California where you'll find a breed of hairy, sweaty, masculine, daddy bears doing what they do best - taking care of each other's manly needs!
Daddy Hunt 1 - Studio: Pantheon Productions
Daddy Hunt 1 is the first installment in the Daddy Hunt Collection of hardcore intergenerational sex, where all of the scenes show hot daddy/boy action. In Daddy Hunt 1 we follow several cute younger men on their search for masculine older men to fulfill their desires. The dvd starts with Tommy and Tony picking up handsome clean-cut daddy Jay Taylor on the street.
Daddy Hunt 2 - Studio: Pantheon Productions
The main event of this intergenerational romp, Daddy Hunt 2, is the final funky half-hour sixway, in which three daddies and three sonnies swap poles and holes all around. But four prior scenes also fill generation gaps. Silver fox Silver massaging young Hanson gets quickly to major asshole close-ups. The two are friendly as Silver chews and screws the desirable jelly-spot.
Daddy Hunt 3 - Gay DVD - Studio: Pantheon Productions
Daddy Hunt 3 features stunning porn stars like Edu Boxer and Derrick Hanson, as well as the young and fresh newcomer Robbie Hardt. Michael Burkk, one of the favourite hung daddies also returns! There are eight sexy men and non-stop older/younger sex culminating with a threeway between Manu, Edu and Derrick that's not to be missed. Daddy Hunt 3 is a true celebration of older/younger sex!

Daddy Hunt 4 - Gay DVD - Studio: Pantheon Productions
Daddy Hunt 4 opens with the ever-ready Derrick Hanson cruising randy gardener Hunt Parker through his window. Derrick loves the site of an daddy with a big furry chest, big nips, and a big bulge in his pants. As this sexy scene evolves Derrick feasts on Hunt's huge dick and then gets fucked by him. Then Derrick tops this hot and sweaty top dad.

Daddy Hunt 5 - Gay DVD - Studio: Pantheon Productions

Daddy Hunt 5 features eight men in five cum filled hoop stretching action scenes of boy-on-daddy action. Enjoy as four hung dads meet the needs of four randy young men who are hungry for daddy dick up their tight asses.
Daddy Hunt 6: Frat Pack - Studio: Pantheon Productions
Daddy Hunt 6 invites you into a fraternity house with four young studs who make a game out of seeing who can bed the hottest daddy. This next instalment is chock full of horse-hung San Francisco daddies and the handsome, lusty young men who crave them. Pantheon has perfected the daddy genre, and Daddy Hunt 6 is no exception.

Dads Vs Boys: Boys On Top - Gay DVD - Studio: Pantheon Productions
Hot, hung boys get their revenge by topping these five horny daddies in Dads Vs Boys: Boys On Top. Muscle daddy Nick Forte has had a hell of a day. He got up early, mowed his lawn and spent hours at the gym to pump his beautiful body to a sweaty perfection. Horny boy Tony Vega has spent the day lazing in the sun, but he's not too lazy to take full notice of Nick's muscled form as he walks down the street.

Dads Vs Boys: Dads On Top - Gay DVD - Studio: Pantheon Productions
In Pantheon's Dads vs Boys: Dads on Top, it's the dads versus the boys - and who do you think ends up on top? Well, this time it's the dads who take charge and make the boys do their bidding. Not that these sexy boys mind because doing daddies is one o f the things that they do best. Arpad Miklos is a man to behold and to be held so when sexy, punky bottom-boy Jake Austin gets his chance he doesn't let go. First, Arpad awakes in all his glorious beauty and opens his curtains to see what the day offers.
Dads Of The Southern Wild - Gay DVD - Studio: Pantheon Productions
Six southern gentlemen get buck naked and wild in the Florida heat in Dads Of The Southern Wild. These hot dads use their beastly moves to fuck like it's their last fuck ever! Don't miss these hot and extremely horny daddies!

Cast: Cameron Kincade, Dick Ryan, Jake Shores, Luciano, Marcel, Steve King

Down To Business - Gay DVD - Studio: Pantheon Productions
Hardworking mature businessmen need to step aside from their duties of getting Down To Business. Sometimes they need to take a break from the office, to loosen up their tie, unzip their pants and get some relief from another man. Jaren's had a long flight and he's just checking into his hotel. Fortunately Geoffrey O'Toole is the very friendly stud working the desk at the hotel.
Folsom Daddies - Studio: Pantheon Productions
Drop dead gorgeous older, hairy men and their meaty cocks await you in Folsom Daddies. JC Carter and Robert Feldman hook up online. When JC shows up at Robert's house, he finds him out in the hot tub - hot, hard, and ready for action! You don't want to miss these two stocky men going at it. Watch Robert in ecstasy as he's taking JC's big, thick dick.
Furry Fuckers - Studio: Pantheon Productions
Director Walter Romero puts together five blistering all-bear man-on-man scenes in Furry Fuckers that'll have you creaming your jeans! Nine masculine, muscular, and furry hunks who know exactly what they want and pleasure each other completely. Furry Fucker Rocky LaBarre's muscled, fur-covered body is bulging in all the right places in his first Pantheon dvd.

Hancock Alley - Studio: Pantheon Productions
Hancock Alley brings you a cast of sexy, San Francisco daddies, a dungeon, a fourway, a hot bareback scene, and of course really big cocks and really hot sex! This hot new addition to the Real Men series is packed with masculine sweaty daddies going at it with a few eager boys thrown in the mix. Take a trip down Hancock Alley and watch what happens.
Hard Mountain - Studio: Pantheon Productions
Hard Mountain is a steamy addition to Pantheon Productions' Real Men series! Hard Mountain takes you on a journey through the wilderness on the tail of randy young backpacker Sean Williams and wandering daddy Titpig. Follow the sexual adventures of these two to see how they come together. Hard Mountain is full of hot outdoor sex between real men.
Heatwave - Gay DVD - Studio: Pantheon Productions
It's a Heat Wave in sunny Palm Springs and these hairy, hung daddies find every opportunity to get naked and put their cocks in play. The heat does crazy things to these hot men and Pantheon catches them fucking in the most random places. It's up, up and away when Kent Burke gets his shot at taking a ride on hot Shay Michael's amazing big cock.
Lone Star Bears - Gay DVD - Studio: Pantheon Productions
In Lone Star Bears, Pantheon takes you behind closed doors at the Lone Star Bar, where the bears are friendly and the employees are always ready to please. These five hot scenes feature uber-bear Clint Taylor, who runs the show and shows his cum-hungry patrons just what it takes to keep the liquor and juices flowing. At the Lone Star you never know what hot bears you're going to meet!
Muscle & Fur - Gay DVD - Studio: Pantheon Productions
When beefy horny muscle daddies get together, the fur really flies as they show off their daddy-muscles and rock hard cocks. Each scene in Muscle & Fur features masculine men going at each other aggressively and greedily to get that dick in the hole. Muscle & Fur - a gay boy's two favourite things!
Real Couples 1 - Gay DVD - Studio: Pantheon Productions
Four older couples bare it all before the camera, literally and figuratively, in Real Couples. Before these men strip down and get to fucking, they're seated in front of the camera where they bare the intimate details of their lives together.



Real Couples 2 - Gay DVD - Studio: Pantheon Productions
Real Couples 2 features four sexy couples getting down and dirty in this dvd celebrating sex between real life couples. Ted tops his younger beau Chris, then hung and uncut men Larry and Jag get very oral with each other. James tops his daddy Dennis, before Dennis turns the tables and gives James his fill with a big dildo. Finally Stephen is in heaven getting fucked by his huge hung and uncut older partner Jon.
Real Couples 3 - Gay DVD - Studio: Pantheon Productions
Real Couples 3 finds four more sexy couples getting naked and showing how it's done in this younger with older guys series. Robert is versatile and usually tops his young beau Chris, but in this scene Chris shows us how much he likes to fuck his furry bear daddy! These two masculine men are such a handsome intergenerational couple.
Real Couples 4 - Gay DVD - Studio: Pantheon Productions
Four real-life daddy and bear couples let you have an explicit look at their sex life together in Real Couples 4. Check out this fourth episode in the ever-popular pornumentary series to find out what it's like when these couples fuck! Two favorite Pantheon Men just happen to be hitched. Hung-daddy Clint tops his young muscle-cub partner Dan in this steamy real couples scene.
Rough Dads - Gay DVD - Studio: Pantheon Productions
Rough Dads features a slew of hot daddies who love to suck and fuck, including Alessio Romero, Rogue Status, and Jake Shores. Whether they're in the locker room, the dungeon, or on the living room couch, these guys love getting down and dirty with hot men. Rough Dads is a big burly beefcake boner bonanza!
Rugged - Gay DVD - Studio: Pantheon Productions
Directors Chris Roma and Javier Romero bring you four deliciously decadent hardcore scenes in Real Men 14: Rugged. For 90 minutes you will see hot-assed 'n horny daddy types in and out of their leather gear with their slings and toys. It's hard 'n nasty sex for the big boys!


Sonoma Heat - Gay DVD - Studio: Pantheon Productions
In Sonoma Heat, watch as nine masculine hung muscular daddies suck and fuck away a hot summer day, culminating in a steamy threeway where Sam Everett gets double-fucked by Jake Mitchell and Jeremy Steel! If you like muscle daddies and outdoor sex, you'll love this installment of the Real Men series. Real Men! Real Sex!
Str8Dads - Gay DVD - Studio: Pantheon Productions
Eight straight men show you what they've got in Str8Dads! This straight trade feature shows off mature straight men for your viewing pleasure. Watch as they stroke their rods to an eruption of hot warm cum and as they breath heavily after release that cum may land on their stomach, clothes, or furniture! Daddies just get better and better with age!
Unsuitable - Gay DVD - Studio: Pantheon Productions
These hot suited daddies know how to get the job done even if it's not the one they're getting paid for. In Unsuitable, take a behind-the-scenes look at the hot sales force at Tough Tools Inc. They're having a bad sales year and big boss Zak Spears is not happy. How does he handle it? By letting his men hear it - and feel it.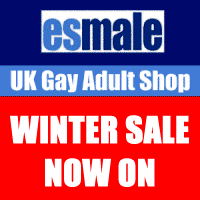 Esmale (UK Gay Adult Shop) sells a large range of gay adult sex toys including a range of fetish and restraint products, Cock and Ball play items, Whips, Paddles and Slappers, Blindfolds, Masks and Hood and are the UK stockist of Mr B leather and fetish products. They also sell a large range of men's designer underwear, condoms and lube, fleshjacks, jock straps and anal toys. Treat yourself!
Save an extra 10% on top of their already discounted prices with our exclusive code 'GAY10'. Click here to shop
See also: www.gayadultshops.co.uk