Tribal Pulse were a gay porn dvd studio that specialised in European stud-pups with beautiful twink cocks ready for action.
Cafe Cum Leche - Gay DVD - Studio: Tribal Pulse
Believable twink playfulness with a natural edge of aggression in four ass-oriented scenes in Cafe Cum Leche. Goth Ricardo breaks their sweet 69 to tongue and then dick Cesar's ass. His nipple-rings really vibrate as he and Cesar finally jack their wads. Tall Bueno hops into a sudsy bath in a gym to suck laughing Tony Goldwyn lookalike Luan's soapy cock.
Camp Hardwood - Gay DVD - Studio: Tribal Pulse
Camp Hardwood is a deluxe oversized treat from Eastern Europe that is wonderfully pleasing. Filmed in the great outdoors, groomed and strikingly handsome Czech guys horse around and explore each other's carnal delights in five electric action scenes.
Carnival - Gay DVD - Studio: Tribal Pulse
Carnival is an unconditional treat. This generous-scened European movie features good-lookers with great skin. Two hiking cuties undress gradually as they go from open-shorts jacking to bare-ass butt-fucking. The gentlemanly fucker takes a break to suck his bottom's dick before rudely coming on the bottom's chest.
Coming Attractions - Gay DVD - Studio: Tribal Pulse
Every man's fantasy is watching a porn film being made. In Coming Attractions, see what it takes to set the stage for the production of the real thing and, of course, there's no reason not to have some hot sex while preparing. In the last scene, the director is so turned on that he joins in the fun. Cast: Caio Peron, Andre Santos, Billy Ferrari, Diego Rivera, Gabriel Samyer, James Matarazo, Lucas Leal, Rayco, Tiago Camargo
Elixir - Gay DVD - Studio: Tribal Pulse
A new Elixir is tested on a focus group of sexy gay men. Above and beyond the inventor's expectations, the new concoction has every man's cock rock hard as it takes sexual chemistry to a new high.
Cast: Poax, Vitor Manzini, Sam Mendes (II), Adriel Ventura, Humberto Cesar, Juan Navarro, Pablo Montero, Rayko, Regis, Wagner Touro
Fire and Wood- Gay DVD - Studio: Tribal Pulse
When you mix Fire & Wood you know you are in for an inferno of hot sex between eight testosterone filled studs. Chopping wood brings out the glistening muscles on these young and very horny men, and the fire burning in the fireplace is nothing compared to the heat between these guys! The sex is out of this world as the gorgeous guys have threeways, foursomes, and group sex too.
Good Sex Karma - Gay DVD - Studio: Tribal Pulse

A full review of Good Sex Karma will appear here soon.

Cast: Diesel, Brito, Cesar, Alisson, Jonathan, Leo, Max, Mendes
Hard As A Rock Band - Gay DVD - Studio: Tribal Pulse
Hard as a Rock Band is packed with throbbing hot man action! Each one of these 5 scenes is full of young, sexy guys with huge uncut cocks who just can't wait to slam them into hungry mouths and eager holes. The mind-blowing 5 man pile up is a must see, with so much cum flying, there won't be a dry spot in the house!
Lucky Stiffs - Gay DVD - Studio: Tribal Pulse
The Lucky Stiffs in this dvd are great-looking young men, who love to lick, suck, rim and fuck one another. These are gorgeous Eastern European boys with the emphasis very much on blonde hair and blue eyes. Check out some amazing flat tummies, developed pecs and very stiff cocks!
Man's Playground - Gay DVD - Studio: Tribal Pulse
Once again, well-hung Brazilian hunks virtually dare any men on earth to prove they're sexier or better lovers. It's a valid challenge, because Brazilian porn stars are really quite stunning. Man's Playground stars a horny bunch of ruggedly handsome, muscular, hairy, ultra-masculine men and two skinny little twinks who love to service dicks and swallow mancream.
Maximum Muscle - Gay DVD - Studio: Tribal Pulse
Lots of masculine and muscular Brazilian models with hot sexual chemistry in Maximum Muscle, with high production values and gorgeous scenery as a background.
Cast: Andre Dumont, Alber Charles, Michael Bittencourt, Victor Manzini, Caio de Castro, Wendel Max, Junior Veroneze, Matheus Axel, Andre Santos, Felix Lins, Arnold, Poax
Men At Work - Gay DVD - Studio: Tribal Pulse
Featuring horse-hung British adult star Max English in his American video debut! Men At Work takes a look back to the times when life and sex were a lot simpler as studly fuck machine Sam Dixon steps behind the cameras to direct this loosely plotted sexual odyssey.
Nasty Men - Gay DVD - Studio: Tribal Pulse

These Nasty Men work each other over hard like just men like it. Tatooed muscle man Billy is so nasty he shoots twice.

Cast: Billy, Carlos Leite, Carlos Vasconcelos, Emerson Darien, Giovanni Breda, Juliano Tukura, Luis Rocha, Yan Ozz
Pocket Rockets - Gay DVD - Studio: Tribal Pulse
Pocket Rockets features a dream cast of exceptionally gifted young cuties and muscular athletic young men having sex in new and fresh positions. Some really exciting new stuntlike moves and lots of big young dicks, all taking place with a beautiful location as the background.
Cast: Michal, Jacob, Aston Martin, Hacha, Jan, Kobe Miro, ZZ Andrews, Jay Velner
Second Cumming - Gay DVD - Studio: Tribal Pulse
Second Cumming by Tribal Pulse features most probably the most handsome young East-European men they have every filmed. Eight young and very athletic lads in their mid 20's have been chosen to play in four great scenes with some breathtaking views of Prague. This title is a real eye-catcher!
Sex and The Tourist - Gay DVD - Studio: Tribal Pulse
Throw out the itinerary! You'll never find this kind of action in your guide book! Our tourist can't see the sites for all the action. Everywhere he goes the locals make him feel so welcome. One hot fucking vaction!
Sex, Lies and Muscle Guys - Studio: Tribal Pulse
Uncut Europeans with hard dicks combine for a unique experience in Sex, Lies & Muscle Guys. The opening couch encounter is highlighted by the sweet meat of Rudolf Rohn. Two bedroom threesomes follow, with Jan Lastovka getting fucked by Karel Rohlicek and Martin Surovik, whose nice cock calls the shots.
Ski Trip - Gay DVD - Studio: Tribal Pulse
Can the puppies in Ski Trip fuck! In a heavenly mountain lodge, impish Kubick fucks Michelanglican cook Martin and has his own cum for breakfast.
Steam Heat - Gay DVD - Studio: Tribal Pulse

What to do when you're with friends and a little bored? Well, go the Spa, of course! A little sauna, a little steam, a little lounging by the jacuzzi and a lot of sex and fun any which way possible between loving comrades. It's Steam Heat!

Cast: Martin, Jacob, Philip, Micha, Paul, Joseph
Subway Gang Bang - Gay DVD - Studio: Tribal Pulse

The cast of this hole-pounding movie scores pretty high on the aesthete-o-meter. Subway Gang Bang is a nice assemblage of low-fat post-twinks with tight bodies and Grade-A genitalia. Like dirty blondes? Try Cirriano! Prefer something a tad more Mediterranean? Say hello to Jo! Care for something a bit spicier? Lopez may be your man.
Suite Service - Gay DVD - Studio: Tribal Pulse
6 HARDCORE GAY SCENE movie This hotel service fulfills all your desires. Every room has a hotter fresher stud than the last. You can't get this kind of service from the Hilton... not even from Paris!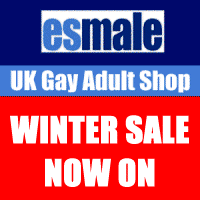 Esmale (UK Gay Adult Shop) sells a large range of gay adult sex toys including a range of fetish and restraint products, Cock and Ball play items, Whips, Paddles and Slappers, Blindfolds, Masks and Hood and are the UK stockist of Mr B leather and fetish products. They also sell a large range of men's designer underwear, condoms and lube, fleshjacks, jock straps and anal toys. Treat yourself!
Save an extra 10% on top of their already discounted prices with our exclusive code 'GAY10'. Click here to shop
See also: www.gayadultshops.co.uk