Director Herve Bodilis produced gay porn dvds for Body Prod that had French sensuality, eroticism, gorgeous European models, and luxurious locations. Top quality gay porn film productions.
Best of Big Cocks (2 DVD set) - Studio: Body Prod

You won't believe your eyes in Best Of Big Cocks, featuring 40 of the hottest models filmed by Body Prod with the biggest cocks and the hungriest bottoms! This is a five hour plus festival of total awe! Every gay fantasy anyone has ever dreamed of has been recreated here by the talented Herve Bodilis. Cops, soldiers, firemen, convicts, athletes - you name it, they are here!
Contact S.M - Gay DVD - Studio: Body Prod
In Contact S.M., a sex-maniac businessman dreams that his main competitor is fucking him over, and over right on his desk, like the bitch in heat he is. We soon find out he keeps a harem of male sex slaves - hooded and harnessed men whose only thought is fulfilling their master's wildest fantasies of humiliation and bondage. But when the master's away, the boys will play. Hard!
Extreme Riders - Gay DVD - Studio: Body Prod
Pretty young hunks, extreme sports, competitions, big engines and orgies around the campfire! The atmosphere warms up and soon enough our boys get their big engines out for hellish rides!
Flight Club / Fly Boys - Gay DVD - Studio: Body Prod
An engine driver takes his apprentice up the ass, an orgy of five well hung mechanics, a control tower where air-traffic controllers fuck a cute bottom until take-off and an abundance of cock sucking happens all over the runway and inside planes!
First Time Escort (Je suis une pute) - Studio: Body Prod
Paulo is a young and very handsome Italian stallion who has just moved to Prague in order to make a very exciting dream come true: To become an escort boy. Introduced to the milieu by his vigorous, multi-talented and extremely open minded friends and new colleagues, Paulo will learn to satisfy his clients' every wish; from the tender to the most extreme and perverse.
Football Champions - Gay DVD - Studio: Body Prod

Life in a soccer club can be exciting, intense and satisfying, especially given all the camaraderie between this club's ripped athletes. With muscles as hard as steel, once they get into the locker room they rip off their sweat soaked uniforms and as they're stripping down, desire mounts. Cocks swell and throb and butt holes beg to be plowed.
Garçons à Tout Faire (aka Roommates) - Studio: Body Prod
15 Young fellas meet up in a villa and spend the whole weekend fucking each other senseless...2 hours of hardcore and perverse action that will make your zip burst like no other.
Gentlemen Club - Studio: Body Prod
This Gentlemen Club is exclusively for the well-heeled and the well-hung. It takes more than being a golden-boy, however, to be admitted and you must like having sex with other men. Suits and ties are appreciated before, during and after, so these guys get suited up and ready to be tied down to service members as long as the cigars they smoke.
Hard Love - Gay DVD - Studio: Body Productions
Julian and Glenn are two young men desperately in love. Despite of this love, they do not miss any opportunities to enjoy life and its sexual pleasures...one on one, threesome and wild orgies!
The Hard Story Of Alex - Gay DVD - Studio: Body Prod
The Hard Story of Alex is hardcore at its best. Alex is tossed into a car and whisked away to an undisclosed destination. During the ride to Sir Edward's castle, one of the kidnappers forces his huge cock down Alex's throat. Soon thereafter, he is pushed out of the car and dragged to the impressive home, where he quickly finds himself surrounded by three masked men.
Horse Club - - Gay DVD - Studio: Body Prod
The Horse Club gives a new meaning to a roll in the hay - during some of those rolls, the models get so heated and loud that the horses in the background cheer them on with whinnies and neighs. The opening is fantastic as Nick Silver overlooks the ranch, then heads into a stable to jerk off. As he takes matters into his own hand, he is spied upon by Rogerio Mateo.
Hostage - Studio: Body Prod
Somewhere in Central Europe... soldiers are staying in the tanks. Are they waiting for action? Yes they are, but perhaps not the kind of action you can imagine... As professional and keeping Hippocratic Oath in mind, the doc' and his assistant treat a prisoner in a strange way... blowjobs and anal penetrations, these are the remedies!!!
Locker Room / Vestiaire pour Mecs - Studio: Body Prod
After their intensive daily training, the sweaty boys leave the football pitch. Once in the locker room, the atmosphere gets very hot indeed. All the lads go for a shower and it's play time again! Very deep massages, great sucking and fucking action in every corner, groans of pleasures.
The Mansion - Studio: Body Prod
Boy - if the walls in The Mansion could talk! This is one sexy house, and everyone - be it the owners, the real estate agents or any other red-blooded males - wants to fuck! The labourers drop their tools so they can drop their pants and hump each other like animals. And the new occupants are going to go orgy crazy!
The Boss - Studio: Body Prod / High Octane
Between little cheats, pack of cards and prostitution, Julian, a handsome stallion and famous gangster also known in the underworld as The Boss, takes advantage of all the opportunities to exert his perversions on beautiful young hunks who are looking for sex, love and cash. Everybody knows that it is too dangerous to face The Boss - indeed, one has tried to swindle him.
The Campers - Gay DVD - Studio: Body Productions
A fine collection of rough and rugged men get back to nature in The Campers. These guys are out in the wild, roughing it and loving it - setting out to answer the call of the wild and to share some human warmth!
The Twins - Gay DVD - Studio: Body Productions
Real brothers, real xxx hardcore action ...

Two young and athletic twins receive their membership cards for a swimming club where hot guys do not miss any opportunity to strip and get as much sex as possible.
Titof And The College Boys - Gay DVD - Studio: Body Prod
The randy students at this all-male college in Titof And The College Boys don't see much of the sylvan surroundings. They're too busy porking one another in dorm rooms, the library, anywhere they come in contact with libido-driven classmates. Luckily, their favourite professor, also the dean of students, is just as horny. Played by Vincenzo, the sexiest man in porn, he mixes it up with the lads in three steamy scenes.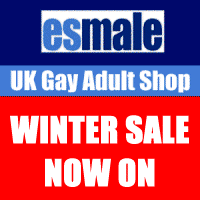 Esmale (UK Gay Adult Shop) sells a large range of gay adult sex toys including a range of fetish and restraint products, Cock and Ball play items, Whips, Paddles and Slappers, Blindfolds, Masks and Hood and are the UK stockist of Mr B leather and fetish products. They also sell a large range of men's designer underwear, condoms and lube, fleshjacks, jock straps and anal toys. Treat yourself!
Save an extra 10% on top of their already discounted prices with our exclusive code 'GAY10'. Click here to shop
See also: www.gayadultshops.co.uk