Centaur Studio is former actor Chip Daniel's gay porn dvd production company that specialises in big-budget gay productions with a military or uniform theme.
Forced Service - Gay DVD - Studio: Centaur Films

Forced Service is a Chip Daniels film which is as contemporary as today's headlines - its a story of young Marine recruits and sexual harassment. When MP London comes to investigate the charges of sexual harassment by Private Hart, he not only learns all the lurid details, but has a chance to experience them first hand...
Hard Corp Recruits - Gay DVD - Studio: Centaur Films

It is often said that the Marine Corps will make a man out of you - and thats exactly what Drill Sergeant Lambert tries to do with nine randy delinquents newly assigned to Charlie Company in Hard Corps Recruits. His goal is to grind strict discipline and hard manual exercise into the young men.
Man Academy 2: Rites Of Passage - Gay DVD - Studio: Centaur Films

Superstar Brock Masters is back with a star studded cast of 12 handsome, big dicked guys together for 6 steamy scenes of man lust. Welcome to a new year at the Man Academy, and along with it, a bevy of new Cadets, who are eager to survive, thrive, and endure the travails of the Man Academy's notorious "Hell Week."

Naval Escort - Gay DVD - Studio: Centaur Films
This two hour fuckfest features 12 hunky, hung guys in an astounding 10 sex scenes, including young men of body types, ranging from 18 to 30, twinks and daddies, smooth and hairy guys and huge cut or uncut cocks.
Playing For Keeps - Gay DVD - Studio: Centaur Films
Big, bronzed young men in six and a bit super saucy scenes, complete with something approaching a plot. Like you care. Top quality ass-pounding work that really hits the spot.
Tight Ends and Wide Receivers 1 - Gay DVD - Studio: Centaur Films

Football jocks ram raid each other's manholes with their big uncut cocks in this very good anal worshippers fuck fest porno. Tight wet manholes get rammed, rimmed and fingered. Plenty of Dildo play goes on too!
Tight Ends and Wide Receivers 2 - Gay DVD - Studio: Centaur Films

2 Hours 12 Young Men 6 Hardcore Scenes How far are you willing to go for the team? These chiseled athletes explode all over the screen for you as they take competition to the next level with lots of sucking, fucking, dildoing, and asshole play.
Time Cops - Gay DVD - Studio: Centaur Films
Cops, Cowboys and Criminals ride each other long and hard as Officer Bob Ford goes back to the Old West to battle the evil James Brothers and prevent his brother Zach from dying again!
Wild Rangers - Gay DVD - Studio: Centaur Films

Outdoor sex. 6 sizzling scenes with duos, threesomes and even fivesomes. Hot, horny hunks choking cute young twinks with their big fat cocks and then shagging the arse off them.
Young Guns - Gay DVD -Studio: Centaur Films

Chip Daniels continues his award winning Hot Cops series with Young Guns, complete with ten of Centaur Films hottest models. Policeman Austin Grant is tall, smooth and handsome, with a swimmer's build, a great ass and a 10" supercock made for conquering hot bad asses....
The following Centaur Films titles are available to stream online
Hot Cops 1 - Gay DVD - Studio: Centaur Films

Hard Cop Action From Internationally Acclaimed Director Chip Daniels Bad boys, bad boys, watcha gonna do when they cum all over you? Within the ranks of the men in blue lies a hidden passion of male lust!
Hot Cops 2 - Gay DVD - Studio: Centaur Films

In Hot Cops 2, reporter Jeff Austin interviews officers Slater, Powers, Baldwin and Brandon about some of their men-on-men experiences while a member of the force. And those stories will amaze you as we learn that within the ranks of these men in blue lies the hidden passions of flesh lust! While conducting the interviews, reporter Austin receives the blunt end of more than one of these officers pistols.

Hot Cops 3 - The Final Assault - Studio: Centaur Films

Incredible sex as Centaur continue this excellent uniform fetish series, this time following an undercover sting by O'Donnell who recruits rookie Bradshaw in a number of ways. Hart is delightful, and so is the cameo by the director who plays a top cop nerd.
Hot Cops 4 Bustin' Loose - Gay DVD - Studio: Centaur Films

They're back, badder and bolder than ever in a nonstop cop vs. criminal sexual marathon that's too hard for most to handle. Hot Cops 4 stars John Ross and beer-can dick Bud Stetson as The Sheriff. The story begins with sex kitten Adam Rom (in his final dvd performance) in a tea room, where his butt takes not one but three of the biggest dicks in the business: Max Grand, police officers Matt Bradshaw and Steve O'Donnell.
Hot Firemen - Gay DVD - Studio: Centaur Films
HOT FIREMEN" takes you behind the scenes where firmen fight fire with fire. Got a fire in the hole? These men are ready to slip in their hoses and put it out.
Hotter Than Hell - Gay DVD - Studio: Centaur Films
Centaur Films and Director Chip Daniels present their long awaited sequel to the highly successful video, "HOT FIREMEN." This time the film, "HOTTER THAN HELL" shows us the sex lives of eight of the hottest, humpiest firemen of Fire Station No. 9, both real and as imagined by their two neighbors living across the street.
Man Academy 1 - Gay DVD - Studio: Centaur Films
10 Models, 8 scenes, 2 hours! Man Academy where boys grow up! Deep penetrating asshole action. Ass virgins get their first pounding and a lot of cocksucking. Cum shots galore!

Manhunter - Gay DVD - Studio: Centaur Films

"MAN HUNTER" is a window into the world of Gay hardcore cruise joints where men hunt men for sex.

Animal instinct leads you there but watch out, cause some men are twisted, perverted, and want more from you than you can handle.

Marine Crucible - Gay DVD - Studio: Centaur Films

The Crucible is the most grueling 24 hours a Marine goes through during Boot Camp. They work out their muscles, cocks and holes, inspiring each other to deep throat and slam-fuck their buddies repeatedly!
Marine Crucible 2 Cocked and Loaded! Centaur Films

Brock Masters is back in action, and hotter than ever, in Marine Crucible 2: Cocked and Loaded!, an extended-length feature movie presentation by internationally acclaimed Director Chip Daniels. Indulge your sexual appetite with over three hours of hardcore man action.
Mountain Patrol - Gay DVD - Studio: Centaur Films

The hot men of Centaur; Logan Reed, Centaur exclusive John Ross, Rod Barry, Bo Summers, Brian Daniels, Brett Winters, Kristian Brooks, Mike Nichols, Scott Lyons and Michael Crawford, take to the ski slopes and prove they can "serve and protect" in any temperature.
Navy Blues - Gay DVD - Studio: Centaur Films
Buy this now before we sell out - this is one of the best movies I have seen in ages. Great mix from adorable twink to hunky stud and all in between. Orgy, gang bang, double penetration, duos, threeways it has it all - buy it!!
Off Limits - Gay DVD - Studio: Centaur Films
Brock is enlisted in a platoon where the guys have a penchant for finding trouble and love to get deep into it with each other! Eleven adorable young, hung guys in 9 hardcore scenes of blistering sex. Gops of deep, sloppy anal action and plenty of stiff, fat, swollen cocks buttfucking manholes.
Wild Rangers 2 - Gay DVD - Studio: Centaur Films

Join these twelve horny hunks as they camp out in the woods and go hog wild on each other's huge cocks and sweet asses!

Starring: Brock Masters, Johnny Doom, Kaleb Scott, Blu Kennedy, Jake Havoc, Brenden Michael, Devon Cade, Devon Mills, Trae Spencer, Daxter Ryan, Dallas Forster

Wild Rangers 3 - Gay DVD - Studio: Centaur Films

Wild Rangers 3 repeats the familiar formula of butch park rangers on the trail of bad boys. This time the perps have kidnapped Jacques Moulin and are holding him for ransom. In tracking him down park rangers have sex with each other, suspects, and finally with what's left of the gang and, of course, Jacques.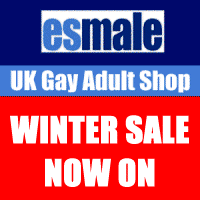 Esmale (UK Gay Adult Shop) sells a large range of gay adult sex toys including a range of fetish and restraint products, Cock and Ball play items, Whips, Paddles and Slappers, Blindfolds, Masks and Hood and are the UK stockist of Mr B leather and fetish products. They also sell a large range of men's designer underwear, condoms and lube, fleshjacks, jock straps and anal toys. Treat yourself!
Save an extra 10% on top of their already discounted prices with our exclusive code 'GAY10'. Click here to shop
See also: www.gayadultshops.co.uk