Peter Fever is a studio that specialises in American Asian gay porn, including big budget gay erotic parodies. One of the hottest Gay Erotica Online networks, Peter Fever was founded by internationally known fashion designer Andrew Christian and model celebrity Peter Le, and is breaking down stereotypes about Asian men in gay erotica
Desert Modern - Gay DVD - Studio: Peter Fever

Damian and Christian are modern exes with a few retro feelings left over. When Christian shows up for a weekend at the Desert Modern house they still own, he finds Damian already there with his hot little actor boyfriend Jason. Christian calls a rentboy service and brings muscleman Axel into the house to keep his bed warm for the weekend. Christian and Damian spend the first night loudly fucking in adjacent rooms just to spite each other.
Feed Me Your Love - Gay DVD - Studio: Peter Fever

When sexual jealousy and obsession threaten newly-coupled David Ace and Max Konnor, it spins off into anger, revenge and threats of violence. But what's better for an ailing relationship, couples therapy or sexual healing? Find out in Feed Me Your Love. It's glorious, uninhibited, juicy, butt-blasting, dick-tickling, no-holes-barred and no-strings-attached fucking that fixes what is pushing David and Max apart.
GayVengers - Gay DVD - Studio: Peter Fever

Here's a sexy superhero blockbuster that will blow your mind and stir up your nether regions! Gayvengers is a story which begins when the evil alien genius Phallos (Damian X. Dragon) and his ruthless minion (Shen Powers) deliver an apocalyptic message of death and domination from their spaceship hovering over Earth. That message reaches the eyes and ears of the Gayvengers, a hardy band of superheroes that are the universe's last best hope against annihilation.
Mr Hardball 1 - Gay DVD - Studio: Peter Fever

Spring training is here and Ken Ott, otherwise known as Mr Hardball, is ready to do some serious balling! Watch the sexy fun as the batter with the most splatter fucks the catcher and goes way past first base with just about every player on the team. Can anything slow Mr Hardball down?
Sexy Rich Gaysians - Gay DVD - Studio: Peter Fever

Welcome to the kooky world of Sexy Rich Gaysians, in and out of love and heat! PeterFever's first All-Asian romantic porn comedy is the story of Justyn, a nerdy LA student who comes to Las Vegas only to find that his boyfriend David is a mega-rich currency trader and possibly a slutty playboy. Justyn's gossipy friend in LA, Darryl, fills him in on the tabloid details.
The Black Panda 2: A XXX Porn Parody - Studio: Peter Fever

The Black Panda 2: A XXX Porn Parody is a hilariously hot gay porn parody sequel created by award-winning studio Peter Fever. The Black Panther (Osiris Blade) heads to Wakamono in search of a magical sperm called Peckeranium, which extends life and gives horny powers. He finds the headquarters of the mysterious Black Panda (played by Alex Chu) who is defended by his two Panda brothers (Levy Foxx and Ken Ott.)
The Deuce: A XXX Porn Parody 1 - Gay DVD - Studio: Peter Fever

The Deuce: A XXX Porn Parody 1 is based in the 1970s and inspired by the HBO James Franco drama The Deuce. Studio PeterFever explores what it would be like to hustle for cash if the same rules applied for men as they did for women during that time period. This is the biggest PeterFever production ever featuring Jessie Lee as the Grandmaster Pimp China Gold and Silky Dick (FX Rios) as his partner in pimpin' and Alex Chu, David Ace and newcomer Bandit (Ari Nucci) as the hustlers.
Yang Gayng - Gay DVD - Studio: Peter Fever

Peter Fever releases the gay porn political parody Yang Gayng, filmed in Washington D.C. and based on Asian Presidential candidate Andrew Yang. Starring Ray Dexter as Andrew Yang, and with cameos by characters such as Mayor Pete Bootycheck and BeatOff O'Porke the hilarious dvd is meant to take a fun look at politics while also delivering a positive message.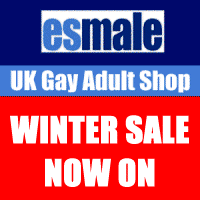 Esmale (UK Gay Adult Shop) sells a large range of gay adult sex toys including a range of fetish and restraint products, Cock and Ball play items, Whips, Paddles and Slappers, Blindfolds, Masks and Hood and are the UK stockist of Mr B leather and fetish products. They also sell a large range of men's designer underwear, condoms and lube, fleshjacks, jock straps and anal toys. Treat yourself!
Save an extra 10% on top of their already discounted prices with our exclusive code 'GAY10'. Click here to shop
See also: www.gayadultshops.co.uk